Continuous Belt Heat Treating Furnaces
Ideal for large part volumes, heat treating using a continuous belt furnace can save time, create cost efficiencies, and yield better heat treating and quenching results.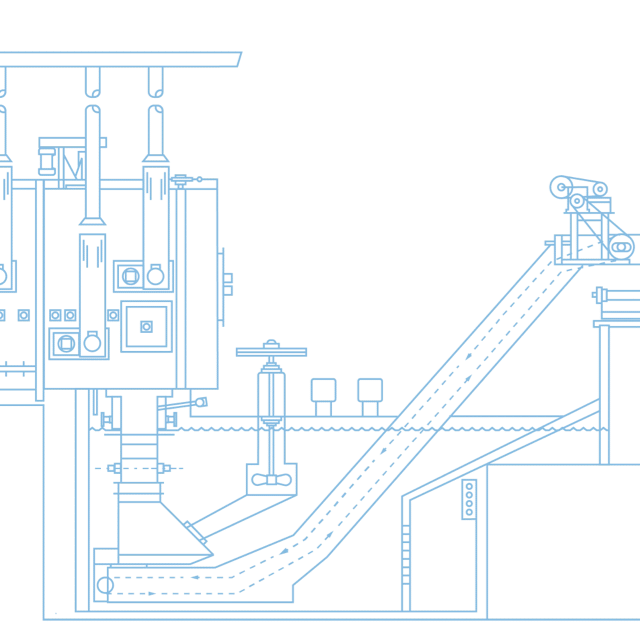 Continuous Belt Furnace Benefits
Continuous heat treating furnaces are efficient at treating large volumes of parts under the same conditions for a given time. Because changing variables such as times, temperatures and atmosphere can be difficult and expensive with continuous heat treating furnaces, they excel especially in situations where a large number of similar components require similar treatment. These are a few benefits of processing parts in continuous belt equipment:
Higher Productivity and Faster Processing
For parts that are a good fit, continuous heat treating furnaces offer higher productivity since they can process a larger volume in a shorter amount of time than batch equipment.
Consistent Quenching
Continuous belt furnaces offer more consistent quenching, due to a design that allows parts to fall into the quench sequentially, rather than all at once as would be the case in batch processing.
Economical Processing for Large Volumes
This piece of equipment is ideal for processing small to medium-sized parts for a uniform time at the same temperature, atmosphere, and quench settings. Our continuous heat treating furnaces are capable of moving parts along at a rate of over 4,000 pounds per hour.
Process control and monitoring
Running high volumes of parts often creates concern about scrap rates. We've datagineered our system to ensure precise results for even the largest runs of parts. Our sensors measure atmosphere and temperature in several key zones throughout the furnace (instead of just one location) and have safeguards that will stop processing if out-of-spec conditions are detected. Instead of manual furnace controls, our Paulo Belt System (PBS) automatically ensures that the furnace controls are adjusted to your recipe's precise specifications.
Continuous Belt Equipment Processes
These furnaces perform hardening processes that can be paired with a variety of quench media. Here are the processes we run in our continuous belt equipment:
Gas Carburizing and Carbonitriding. Depending on the case depth requirements, both of these case hardening methods can be run in our continuous furnaces.
Through Hardening. Also known as neutral hardening, this method hardens parts all the way through, as opposed to simply creating a hard case with a softer part core. Through hardening is used for all types of applications, from automotive parts to agricultural equipment to railroad components.
Quench media. Parts are quenched sequentially once they've moved through the furnace, and we can perform the quench with oil or caustic media according to your requirements.
Continuous Austempering. We use specialized Continuous Austemper furnaces to perform processes that require a salt quench in our Murfreesboro division.
Which Parts are a Good Fit for Continuous Belt Equipment?
Automotive stampings such as seat belt buckle components and steel parts like structural bolts are just two examples of common parts we often process in our continuous belt equipment. These are a few variables we consider when evaluating whether parts are a good fit for processing in continuous belt furnaces:
Part geometry. A continuous heat treating furnace's suitability to a given job depends heavily on part geometry. Based on their cross-section and total size, some parts will be a good fit for a continuous heat treating furnace, and others will not.
Part size. Generally best suited for small- to medium-sized parts, these furnaces are typically most efficient when processing parts weighing under eight pounds and measuring less than eight inches in length.
Continuous Belt Furnace Specifications
We have abundant capacity for continuous belt processing across the Paulo system with seven furnaces among our St. Louis, Kansas City, and Murfreesboro divisions.
Certifications: The Belt Furnace in Kansas City has NADCAP and CQI-9 certifications. KCY can also process to AMS 2759/1. The other Belt Furnaces (St. Louis and Murfreesboro) have IATF and CQI-9 certifications for automotive.
Working Area Size: 60″(w) x 6″(h)
Minimum Temperature: 1,450°F
Maximum Temperature: 1,750°F
Maximum Weight: 8lbs per part. Typically, parts are much less than 8lbs each. Parts also must be less than 20lbs per square inch.
Maximum Capacity: 4,000 lbs / hr (loading is part and process dependent)
Datagineering for Efficiency
Our in-house team of engineers and metallurgists have successfully converted parts from batch to belt processing for several customers to improve turnaround time and gain processing efficiency. We've gotten creative with "rack on belt" fixturing on many projects that ensures consistency in heat treating for parts whose geometries would otherwise prevent them from processing on the belt. While certainly not every hardening process can be converted from batch to belt, if your parts are a good candidate for this, we can help make it happen.
Let's Get Started
Have a heat treating project that requires processing in a continuous belt furnace? Paulo can help you achieve precise, repeatable results. Tell us a little about your project and we'll connect you with a Paulo expert who can help.
REQUEST MY QUOTE