Zinc Plating Lines
Whether for an aesthetic touch or corrosion control, Paulo's zinc plating lines handle in-shop applications of high volumes of parts when called for.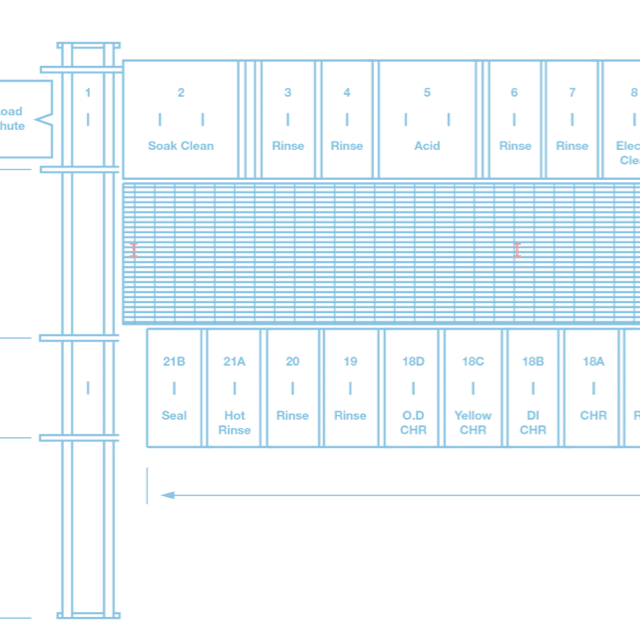 Precision at Every Step.
Zinc plating is a multistep electroplating process used as corrosion control for small parts such as screws, fasteners, nuts, bolts and other small hardware. It's also commonly used as an aesthetic finish for small parts that may be visible on a fully assembled product.
Each step in the zinc plating process requires a critical level of expertise and consistency for a strong, effective coating, every time.
1. Surface Preparation
First, we apply an alkaline detergent solution, before applying an acid treatment to remove any surface rust.
2. Plating Solution Preparation
The parts are then immersed into the plating bath, an electrolyte solution consisting of the zinc metal ionic solution and other chemicals that aid the plating process.
3. Introducing the Electrical Current
An electrical current is used to deposit metal ions onto the part's surface.
4. Post Treatment Procedures
After the electrical current is run through the parts in the
solution, they are rinsed with water to remove contaminants and then thoroughly dried. If extra corrosion protection is needed, we apply additional passivates and sealers.
Large Capacity for High Volumes.
Zinc plating is traditionally performed on large batches of small parts, so manufacturers looking to contract out this important service will want to make sure they're working with a partner that has the capacity to handle large volumes of parts. At Paulo, our zinc plating lines deliver quality plating at a rate of 12,000 pounds per hour for a quick turnaround time.
Our zinc plating lines can accommodate parts with the following maximum dimensions:
Zinc Plating at Paulo
Consistency is key in every process you provide. That's why we've invested in state-of-the-art equipment that utilizes our integrated quality control system, the Production Information and Customer Service system (PICS).
Our high-capacity zinc plating operations feature:
Trivalent chromates including clear and yellow, but never toxic hexavalent chromates
Seals to improve salt spray performance
Large baking operation to reduce the risk of hydrogen embrittlement
RoHS 2 and REACH compliance
Available compliance with many auto industry OEM plating specifications
Salt spray conforming to ASTM B117 standards
Eddy Current Measurement
Start a Conversation.
We're ready to tackle your next project with precision and control. Request a quote or contact us today to learn more about our Zinc Plating Lines.
Request My Quote