02.21.20
| 2 min read
Paulo Cleveland Adds HIP to Nadcap Scope
Paulo is proud to announce the addition of Hot Isostatic Pressing to the Nadcap Scope of our Cleveland Division. The Cleveland plant has held Nadcap for heat treatment, brazing, and testing for many years. The recent investment adding HIP to our portfolio of services was driven by the market need for more Nadcap approved sources for HIP. Throughout the startup phase and into early production work of non-Nadcap customer work our Quality and Operations teams knew the goal was Nadcap accreditation.  In early December a three-day on-site audit was conducted which resulted in approval.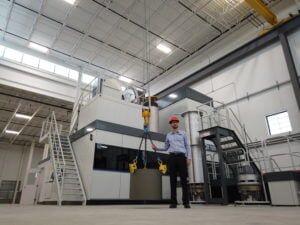 With both Nadcap Vacuum Heat Treating and Nadcap HIP under one roof, Paulo's Cleveland Division is now positioned to be a one-stop-shop for investment castings and additively manufactured parts destined for the Aerospace industry. HIP has been common for critical Aerospace parts for decades, but it is becoming increasingly common in other applications as well.
Bob Muto, Plant Manager, commented, "We are excited to add HIP to our Nadcap accredited service, we are unique in offering a one-stop-shop for both HIP and heat treatment of critical Aerospace parts".
Founded in 1943, Paulo is one of the largest providers of thermal processing and metal finishing solutions in North America. Headquartered in St. Louis, Paulo operates six divisions servicing the Midwest, Great Lakes, and Southeast regions of the United States and northern Mexico.
Subscribe to keep up with the latest and greatest
Email Subscription - Call to Action Module