01.29.20
| 2 min read
Kansas City Division Awarded 24-Month Nadcap Merit
Paulo's Kansas City Division passed a recent Nadcap recertification audit earning 24-month merit status. The audit was supported by Kansas City's team in addition to Corporate Quality team members.  In addition to the re-certification the Nadcap scope was expanded to include AMS 2759/7. The addition enables the plant to provide gas carburizing for aerospace components. The decision to add 2759/7 was driven by increased demand from both the existing customer base and the growing Aerospace market.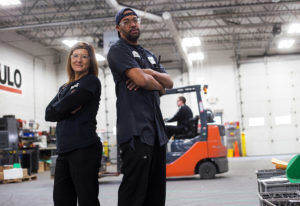 Chad Simpson, Director of Corporate Quality, commented, "Combined with the recent Gulfstream audit which ended with a new approval, earning 24-month merit Nadcap is yet another testament to the strong team and commitment to quality at the Kansas City plant".
Despite some recent headwinds, the backlog of orders for commercial aircraft remain high, and in response to that demand Paulo has continued investing as our customer's needs change and grow. To that end, a gas fired furnaced for the aging of stainless steels has been delivered to Paulo Kansas City. Installation is in progress and the furnace will be ready for production shortly. The new furnace is 36"x36"x72" with 7000lbs max load and will substantially increase capacity for age hardening stainless.
Founded in 1943, Paulo is one of the largest providers of thermal processing and metal finishing solutions in North America. Headquartered in St. Louis, Paulo operates six divisions servicing the Midwest, Great Lakes, and Southeast regions of the United States and northern Mexico.
Subscribe to keep up with the latest and greatest
Email Subscription - Call to Action Module